Guitar Teaching Poster with Guitar Hero Photos
Guitar Chord and Music Theory Poster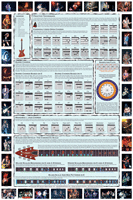 Guitar Teaching Poster with Guitar Hero Photos
24" x 36" Poster
On Heavy 100 lb. Gloss Paper $19.95 + $5.00 Priority Mail Shipping
The Absolute Best Guitar Chord Poster Ever Made
This poster is for people who want to play rock n roll guitar. It is printed on 100 lb. gloss poster stock and is chock full of all of the most useful information that we could fit onto a 24" x 36" poster.
The icing on the cake is that this poster comes complete with all the inspiration you need to practice: over 36 of the greatest guitar heroes of Rock N Roll are all around the border watching, and they're all original David Plastik photographs.
This guitar chord poster is an educational and inspirational guitar lesson that features chords, scales, music theory and rock's greatest guitarists.
A More Complete Teaching Poster
There are a number of guitar posters in a wide variety of sizes available online today. Many of them cram as many chords onto the poster as possible, regardless of whether or not they're useful. There are others still that focus exclusively on scales or theory or Jazz chords.
Rather than focusing on a single subject, we explain important concepts behind several different areas of study, like the fingering patterns of scales and the fixed fingering positions of Barre chords.
More Information than Other Posters
You will not find a guitar chord poster with more or better information than this one. This colorful full-size guitar chord poster was designed for everyone from the beginner up through the advanced player. It is specifically targeted to people who wish to learn to play rock n roll music and contains as much information as 3 separate posters from the Hal Leonard series of teaching posters.
This poster is a practical guitar lesson for the serious student that seeks a clear pathway to becoming a good player.
Open Chords, Barre Chords, Jazz Chords
This poster defines, diagrams and explains Rock's most often used guitar chords: Barre chords, and explains why they are so important and powerful. It also defines and diagrams moveable Jazz chords and the guitar's most often used Open chords.
Chromatic Scale, Major, Minor and Blues Scales
Do you want to learn to shred, or play blisteringly fast solos where every note counts--like Randy Rhoads? Well then you gotta learn your scales! On this extremely important subject of scales, our poster starts at the beginning. We chart the Chromatic scale on the E and A strings and the explain the relationships between the open E and A chords, the Chromatic scale and Major and Minor Barre chords.
This information packed poster further lays out Major and Minor Scales, pointing out their patterns and stressing the importance of practice.
Sharps and Flats and the Circle of Fifths
This guitar poster takes nothing for granted and offers an explanation and visual chart for a better understanding of sharps and flats. The Circle of Fifths is a final bonus piece of the musical puzzle added for budding songwriters and soloists.
This poster is unique its scope and appeal. The more complete approach to teaching, coupled with our vintage guitar hero photographs by David Plastik make this guitar chord poster a great addition to anyone's music room.
Over 36 Featured Artists
Jimmy Page, Randy Rhoads, Angus Young, Brian May, Keith Richards, Eric Clapton, David Gilmour, Dave Mustaine, Paul Stanley, Neal Schon, Joe Walsh, Eddie Van Halen, Stevie Ray Vaughan, Chuck Berrry, Pete Townshend, Ritchie Blackmore, Slash, Mark Knopfler, Zakk Wylde, George Lynch, Steve Vai, Yngwie Malmsteen, Jeff Beck, Joe Perry, Carlos Santana, The Edge, Rick Nielsen, Tony Iommi, Lita Ford, Brian Setzer, Dickey Betts, Steve Morse, Steve Howe, Metallica: James Hetfield, and Kirk Hammet, Rush: Alex Lifeson, Geddy Lee and Neil Peart, ZZ Top: Billy Gibbons and Dusty Hill, Judas Priest: Glenn Tipton and K. K. Downing, Queensryche: Michael Wilton, Geoff Tate and Chris DeGarmo, Thin Lizzy: Scott Gorham and Phil Lynnot.
Diagrams and Definitions
Often Used Open Chords

E, A, D, G, C, B, F
Em, Am, Dm, Gm, Cm, Bm, Fm
E7, A7, D7, G7, C7, B7, F7

Barre Chords

Major Barre Chords
Minor Barre Chords

Moveable Jazz Chords

6th Chords
7th Chords
9th Chords
Diminished Chords
Augmented Chords

Scales

Chromatic Scale
Major Scales
Minor Scales
Blues Scale for E
Blues Box Diagrams for E

Sharps and Flats
Circle of Fifths
Cost and Shipping
Our 24 by 36 inch full-size Guitar Chord Poster is printed on 100 lb. sturdy gloss poster paper and shipped in a strong, 24" x 2" capped tube. The poster price is $24.95 plus $5.00 shipping via USPS Priority Mail in the contiguous United States.
International Orders
International shipping is $30.00
Distributors, Music Store Owners, E-Commerce Vendors
Please contact Brett for special pricing on the purchase of 10 or more posters.
Google